SOVA Night Guard Heating Pack
Heating pack to mold your SOVA night guard anywhere, anytime
Buy 2 for

£12.00

each and save

7

%
Buy 4 for

£10.00

each and save

23

%
Order Today, Shipped *Today
Free Shipping Over £60
100% 30-day Money Back Guarantee
Shop with Confidence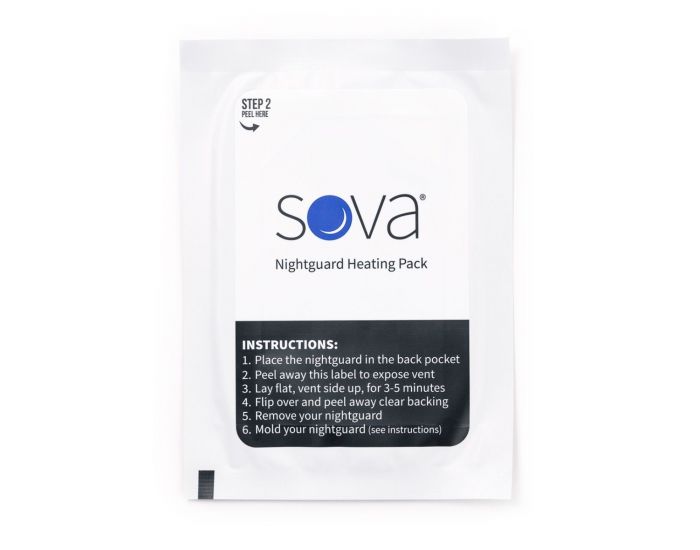 SOVA Night Guard Heating Pack
Mold your SOVA night guard anytime you want without water
Your SOVA night guard warms up in few seconds

Does not require hot water or electricity 

You can easily take it with you everywhere
Your SOVA Nightguard can be mold in hot water within 2 minutes infinitely often. However, you don't always have hot water or electricity nearby (e.g. when you camp). Or maybe you just want to go to bed after a party and don't have time or inclination to boil water.
The SOVA Nightguard Heating Pack will make your life easier. You can just insert your SOVA mouth guard and take it out again when it is warmed up!
Advantages of SOVA Heating Pack 
no hot water required 

no electricity required 

no kettle or microwave required

saves time you would spend by tidying up or cleaning 

can be used always and everywhere 

fits all SOVA Nightguards models at any time

can be easily taken with you 

can be purchased together with Sova Nightguards and as a heat pack bundle (5 or 10 pieces)

The SOVA Heating Pack is the ideal solution to quickly heat your SOVA Nightguard splint and to shape it the way you wish. In the middle of the night in a tent at the North Pole or in a Hilton Hotel after a party: always and everywhere, wherever you are! Ready in a few seconds.
How do you warm up your Sova Nightguard?
1. Put your Sova bit in the back pocket of the Sova Heat Pack.
2. Remove the instruction label to expose your Sova Night Guard to the air.
3. Lay the Heat Pack flat for 3-5 minutes with the ventilation side up.
4. Turn the Heat Pack over and pull off the clear label on the back.
5. Remove your nightguard from the pack.
6. Shape the bit to the desired shape.