Oravall® Mouthwash
Mouthwash with Active Oxygen for a fresh breath
Buy 2 for

£11.22

each and save

25

%
Buy 4 for

£10.39

each and save

31

%
Order Today, Shipped *Today
Free Shipping Over £60
100% 30-day Money Back Guarantee
Shop with Confidence
Combine and save:
£32.95 £29.65

10% discount
-£3.30 buying this bundle

1x

+




1*Oravall® Mouthwash + 1*Oravall® Fresh Breath Chewing Gum (60 pcs)

£30.00 £27.00

10% discount
-£3.00 buying this bundle

1x

+

Oravall® Mouthwash

Order Today, Shipped *Today
Free Shipping Over £60
100% 30-day Money Back Guarantee
Shop with Confidence




1*Oravall® Mouthwash + 1*Oravall® Mouthwash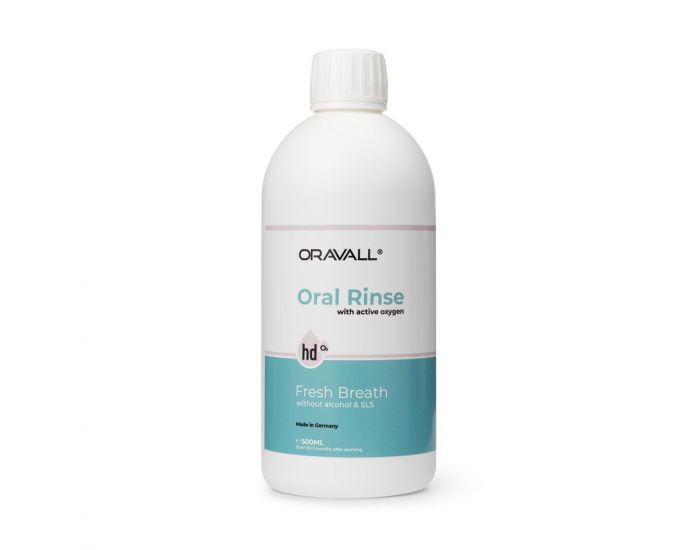 Oravall® Mouthwash
Mouthwash based on active oxygen that provides fresh breath
Helps effectively and safe against bad breath
Maintains the natural balance of the oral flora
Pleasant mint flavour
No sugar, alcohol or artificial flavourings or colourings
Bad breath is more common than you think
Approximately 20% of the people have bad breath on a regular basis. Some don't even notice it, because you don't notice your own smell. It used to be thought that bad breath comes from the stomach, but that rarely appears to be the case (about 4%). Usually (over 90%) the cause of bad breath is located in the mouth and throat.
Harmful anaerobic bacteria convert sugars into gases, the so-called volatile sulphur compounds. An excess of these bacteria in the mouth means an increase in these sulphurous gases, which cause the unpleasant smell. Apart from the quality of your breath, the presence of these bacteria has many more adverse effects. The same culprits are responsible for many oral problems, such as the formation of tartar, caries (cavities), almond stones and infections of the gums.
Apart from permanent bad breath (halitosis), your oral smell can also be caused by morning halitosis, from eating a lot of onion or garlic, from excessive alcohol consumption or from a high-protein diet.
Now for the good news: you can fight bad breath effectively, yet safely
This can even be done very easily with Oravall® mouthwash. The harmful bacteria responsible for bad breath are anaerobic. This means that they thrive in an environment with little or no oxygen. That is why saliva is naturally rich in oxygen. It provides the natural protection of the teeth and fresh breath. An effective way to combat harmful bacteria is to add extra oxygen to the mouth.
Even in the non-permanent cases of bad breath, such as garlic, high-protein food or alcohol, Oravall mouthwash neutralizes unpleasant smells.
Based on active oxygen
To fight bad breath, an active oxygen formula is the way to go. Firstly, oxygen fights bacteria by disrupting their oxygen-deficient environment. In addition, the oxygen molecules neutralize the smelly sulphur compounds they produce. Oravall® mouthwash has a very high concentration of oxygen, so these effects are immediately noticed.
However, unlike regular mouth waters with antiseptic ingredients, the natural balance of the oral flora is respected. This means that the harmful bacteria and their stinking sulphur compounds are eliminated, but the beneficial and good bacteria remain untouched.
In the case of strong antiseptic mouth waters, you should set a rest period after a while so that the oral flora can recover. With Oravall® mouthwash this is not necessary, because it only benefits the natural balance of the oral flora. And that's another remedy for bad breath.
With Oravall® mouthwash you are structurally assured of fresh breath. It contains no alcohol, sugar, saccharin, SLS (sodium lauryl sulphate) or other irritating components.
How to use Oravall® mouthwash?
Depending on the severity of the complaints, you can use Oravall mouthwash 1 to 3 times a day. Rinse your mouth and gargle, for example, after brushing your teeth.
Never put the bottle or cap directly on your mouth to prevent contamination of the liquid. Pour 1 or 2 caps of Oravall mouthwash into a cup, rinse your mouth for at least 30 seconds and spit out the mouthwash. For extra safety you can put another cap of mouthwash in the cup and rinse your mouth again. The longer you keep the liquid in your mouth, the better the oxygen molecules can do their job. Oravall mouthwash is also suitable for use in a mouth shower.
For on the go you can use a small bottle of Oravall oral fresh spray with the same composition and effect.
Because Oravall mouthwash respects the oral flora, it's suitable for daily use without a rest period. When choosing your toothpaste, make sure it does not contain any SLS (sodium lauryl sulphate). This foaming substance can neutralise the beneficial effect of the oxygen-rich mouthwash.
What are the ingredients of Oravall® mouthwash?
Water, sodium (table salt), chlorite, sodium bicarbonate, PEG-40 hydrogenated castor oil, potassium sorbate, sodium benzoate, Mentha Piperita (peppermint), sodium hydroxide, Tetrasodium EDTA, flavouring.

Oravall mouthwash is free of alcohol, saccharin, SLS (sodium lauryl sulphate) and Benzalkonium chloride.
It is suitable for diabetics and developed without animal testing.