SOVA Junior Teeth Grinding Guard For Kids (white)
Night guard against teeth grinding for kids between 6 - 12 years
Buy 2 for

£22.00

each and save

12

%
Buy 4 for

£20.00

each and save

20

%
Buy 6 for

£18.00

each and save

28

%
 Order Today, Shipped *Today
Free Shipping Over £60
100% 30-day Money Back Guarantee
Shop with Confidence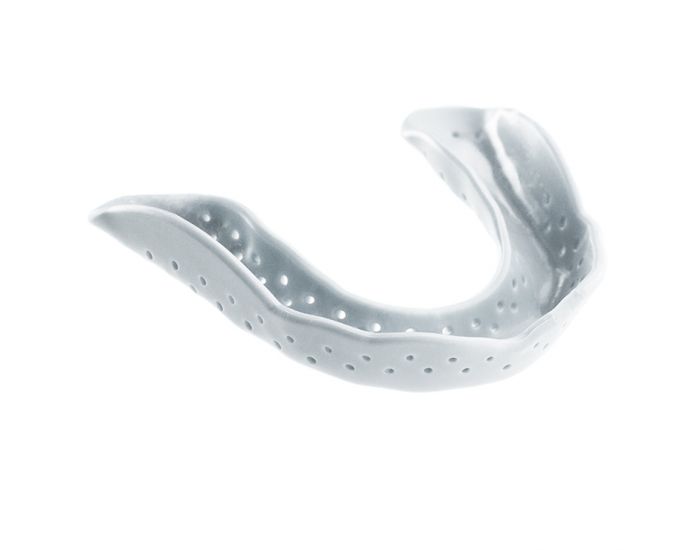 SOVA Junior Night Guard: Teeth grinding guard for kids between 6 -12 years
Protects teeth from damage caused by teeth grinding
Custom-fit mouth guard for kids between the age of 6-12
Unique ultra-thin design (1.6 mm.) for maximum comfort
Easily made to mold yourself
Free of BPA, BPS, Latex, PVC and other harmful substances
The SOVA Junior is very easy to shape with the SOVA Heating Pack 
The SOVA Aero Night Guards are made of the ultra thin material SISU which provides high quality.
The ultra-thin design offers optimal comfort and the openings do not obstruct the natural flow of breath and saliva.
High protection of teeth and gums
SISU is a material that is up to 8 times stronger than the material EVA (Ethylene Vinyl Acetate) from which conventional mouth guards are made of.  In addition, Diffusix technology has been used. The SOVA Junior Night Guard, developed from the ground up specifically for growing jaws and teeth, is designed to distribute the pressure caused by night grinding, relieve the pain, and protect kids' teeth at night. At the same time, these openings allow saliva to circulate and protect the teeth and gums in a natural way.
Only 1.6 mm thick
The SOVA Junior Night Guard against teeth grinding protects your child's teeth optimally against damage caused by teeth grinding or jaw clamps. By using SISU,  the bit is only 1.6 mm thick. The SOVA Junior Night Guard is 50% thinner than the usual anti-gnarled teeth. That makes it a lot more comfortable and possible to talk and drink while wearing the SOVA Junior.
SOVA Junior is also available in green and purple
How can I mold the SOVA Junior Night Guard?
The bit for children can be shaped in the same way as the bit for adults. Would you rather not use water? Then make use of Sova Heat Pack. Follow instruction in the video below:
Caution: Limit Therapy to no more than 2 months at a time. Most children respond quickly to therapy and the elimination of the SOVA Junior Night Guard is usually possible in 4-6 weeks. Remold every 4 weeks to accommodate for growing arches.